Office of Volunteer Opportunities
Welcome
Welcome to the ASUW Office of Volunteer Opportunities! This is the best spot to launch yourself into the student association here at the University of Washington. Volunteers are the backbone of the ASUW. None of the advocacy, rallies, concerts, or other events would be possible without volunteers. Whether you are brand new to ASUW or are just looking to gain some work experience in an area of interest, the Office of Volunteer Opportunities (OVO) is here to help you find your best fit within the association.
On this website, you can find current open volunteer opportunities and positions ranging from one-time event volunteers to internships, and you can find the resources you need to start your ASUW volunteering experience. Follow us on Facebook for more frequent updates, and sign up on the Email List to receive opportunity and event notifications!
If you have any questions, feel free to contact Jenny Chung, the Office Director at asuwovop@uw.edu or visit the office during OVO office hours for an appointment to discuss how to begin your involvement in the ASUW!
UPCOMING OVO OPPORTUNITY: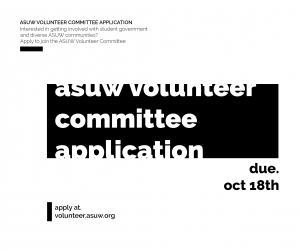 ASUW Volunteer Committee with the Office of Volunteer Opportunities
The ASUW Volunteer Committee (AVC) is a great way for freshmen, sophomore, and third-year transfer students to gain an extensive and comprehensive exposure to the ASUW through a year-long program. Students in the committee are provided with professional workshops, job shadowing opportunities within the ASUW, and opportunities to make a direct impact on the ASUW volunteer community through programming and advocacy. Apply today! If you have any questions, contact our Assistant Director Ian at asuwovoa@uw.edu or visit OVO at HUB 121C! Application closes on October 18th.